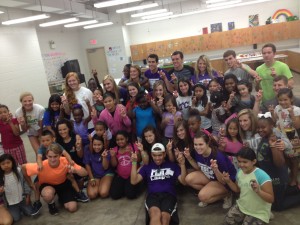 Dream Outside the Box is a partnership between college students and local youth development facilities such as elementary schools and YMCA Clubs with support from local corporations and community organizations. Whether you are 9, 19 or 99, anyone can plug in to help make Dream Outside the Box effective across the nation.
The 3 C's of Getting Involved with DOTB
Connect
DOTB's headquarters are located in Fort Worth, TX with increasing multiple locations nationwide for volunteering.
Chapters are currently planning experiential learning activities and expanding volunteering opportunities at the University of Missouri, Texas Christian University, the University of North Texas, and the University of Oklahoma for example.
There are many ways to share your skills and strengths with DOTB from volunteering as a caring college student to providing service as a passionate professional. To learn more information about Dream Outside the Box, please email [email protected]

Charter
DOTB's goal is to work with children in every corner of our nation until we "put ourselves out of business". In order to so, it will take people like you (yes, you!) to make it possible.
We encourage energetic college students to charter chapters at their local colleges and universities. DOTB will provide support, materials, curriculum and more!
If interested, please fill out the Contact Form and someone from our team will contact you with more information. Even if you are just thinking about it, email us! We would love to hear from you!

Contribute
Just $5 funds a fencing lesson for a child- an investment in their long-term development.
All DOTB activities are provided at no cost to the child. Because of contributions from people like you, Alice donned a ballet leotard and tights for the first time; Kiara flew to the White House to meet the President; and Alexander and 24 of his peers experienced their first ever rodeo!
DOTB is a 501(c)(3) tax-exempt nonprofit organization. Donors who contribute in 2012- 2013 will be forever honored as "Founding Donors," recognizing your investment in the dream and support in our critical early stages.
Thank you for considering contributing to continue making this possible!
Email our team at [email protected] with any questions on your investment or to set-up a legacy gift.